Skivia Nourishing Body Butter With Cacao, Argan Oil & Cucumber - 200 gm
Share
Sale price
₹ 312.00
Regular price
₹ 445.00
29% off
Unit price
per
Sale price
₹ 312.00
Regular price
₹ 445.00
29% off
Unit price
per
Available Offers
Buy 2 & More & get additional 20% Off
Extra 10% off on Prepaid Orders
View full details
Good Quality Product
The Product is quite effective.
Good Quality Product
The Product is quite effective.
Product Description
Skivia Nourishing Body Butter is enriched with the goodness of cacao butter & argan oil which penetrate deep into the skin to provide nourishment. Intensely hydrating agents like cucumber & aloe vera replenish the skin's hydration. This wholesome blend of natural ingredients works to rejuvenate your skin and leave it well-nourished, hydrated & plump. It is packed with the benefits of vitamin E and argan oil that help fight the signs of ageing & keep the skin moisturised. Cucumber soothes the skin and adds subtle radiance. Skivia Nourishing Body Butter is a 'Made In India' product from the House of Clovia that contains no nasty chemicals and is free from paraben and sulphate.
How does it Work?
Cacao butter protects the skin cells from oxidation & ageing while ensuring proper hydration & stimulating blood flow that helps keep the skin healthy & glowing.
Argan oil defends the skin against free radical damage caused by the sun. It is also beneficial in treating signs of ageing & improving the skin's elasticity.
Cucumber contains folic acid that fights against environmental toxins. It contains cooling properties that give a soothing effect & thoroughly moisturize your skin.
Skivia Nourishing Body Butter is armed with actives & super ingredients that work fast & effectively.
Activators & Super Ingredients
Cocoa Butter
It is extremely rich in antioxidants that work to safeguard your skin from various damages. Its anti-inflammatory properties soothe & prevent any kind of blemishes & redness to give you an enhanced complexion.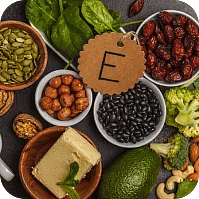 Vitamin E
It works as a powerful antioxidant that nourishes & protects the skin from free radicals. It may also prevent & minimise the damage caused by the UV rays. It shields the skin from losing moisture & makes it soft, smooth & supple.
Aloe Vera
Contains anti-bacterial & anti-ageing benefits for the skin and is also rich in antioxidants. It deeply moisturises the skin & makes it soft. It is helpful in combating acne as well as signs of ageing.
Argan Oil
A powerful oil that works as an effective anti-ageing treatment & regulates sebum production to give you a smooth complexion. It is a great moisturizing agent that replenishes & retains moisture in the skin.
Cucumber Oil
It facilitates new cell growth & combats toxins thus preventing the skin from premature ageing. Their high water content helps in cleansing the skin & tightening the pores which may prevent acne breakouts. It rejuvenates the skin & helps make it firm.
How to use
Take a dollop of Skivia Nourishing Butter & slather it generously all over the body.
Gently massage over the skin in circular motions until fully absorbed.
For best results, use it every day after bath.
Kumkumadi Daily Beauty Regime
Skivia kukumadi Rejuvanating Face Wash
skivia Kukumadi Face serum
skivia Kukumadi Spot Corrector Cream
Skivia Kukumadi Day Cream SPF 30 or Skivia Kukumadi Replesing Night Cream
Pro Tip:
You can apply a very small quantity of Skivia Kukumadi Face Oil before yor daily makeup routine as a primer or at night as a part of skin care regime for glowing skin, but remember to skip face serum if you are applying as its contains potent moisturising abilities
Use Once A Week
Skivia Kukumadi Face Scrub
Skivia Kukumadi Face Mask
About Skivia
Hey ladies, gents and non-binary friends - meet Skivia! She is just like a modern sanskari woman who still loves grandmother's recipes as the world zooms past. Skivia brings natural alternatives for high-end chemical products - superfoods for skin & hair to solve everyday as well as specific beauty needs. Trustworthy & playful, Skivia understands this fast & furious world and presents quick & handy head-to-toe beauty solutions that you can rely on.
Frequently Asked Questions
Q.1 Can I use Skivia Nourishing Body Butter on dry skin?
+
-
Made with a rich combination of natural ingredients, Skivia Nourishing Body Butter is a great pick for all skin types. Especially for dry skin people, this body butter keeps your skin hydrated and soft all day long.
Q.2 Can Skivia Nourishing Body Butter be used on the face?
+
-
Skivia Nourishing Body Butter has been formulated for your body skincare, but if you are in need or have no other option, then using it on the face would do no harm.
Q.3 When should I start using Skivia Nourishing Body Butter?
+
-
You don't really need to have a particular skin routine timing for this, but you can use Skivia Nourishing Body Butter every day after bath for softer and smoother skin.
Q.4 Is Skivia Nourishing Body Butter safe for sensitive skin?
+
-
Yes, it is completely safe & people with every skin type can use it without any worries. This body butter is made out of natural ingredients to ensure you have a toxic-free and sulphate-free skincare routine.
Q.5 How often should Skivia Nourishing Body Butter be used?
+
-
As it is made out of natural ingredients, Skivia Nourishing Body Butter can be used as frequently as possible. For people with dry skin, gently massage it into your dry patches and allow for it to absorb into the skin throughout the day.