We all want that Korean glass-like skin right? And you might be thinking that achieving such skin needs a lot of money and maintenance. Well, ladies let me tell you something, getting glass-like skin is really easy and even budget-friendly too. Glass skin can be described as your most luminous, dewy, and healthy skin. And the ultimate answer to achieving this skin is "Serum". Yes, you heard it right! Since serums deliver extremely concentrated doses of active ingredients, we tend to think of them as skin booster shots. Serums can take care of many skin concerns. If you want to get your glow on, go for either hydrating or brightening formula ( which contains vitamin C), which helps you get glowing skin and even reduces hyperpigmentation.
First things first, cleanse!
Behold! You gotta have a set routine if you desire a better result. Start off by cleansing, use a mild cleanser to get rid of the impurities that accumulated over the day. Gently clean the pores with circular motions and remember, never drag your face. The contrast tugging can lead to wrinkles. Cleansing will allow a clean base for the next few steps. Proceed further with serums and absorb the goodness, the correct way. 
Following are the three best serums that will help you to achieve glistening glass-like skin for sure:
1. Skivia Vitamin C Face Serum with Hyaluronic Acid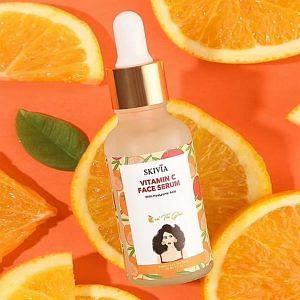 Almost all Korean beauty products have hyaluronic acid as an ingredient. It's because this amazing ingredient keeps your skin moisturized and radiant. To achieve Korean glass skin, hyaluronic acid is an amazing ingredient to look out for in a serum. It's often used in hydrating formulations.  This face serum is highly enriched with vitamin C, hyaluronic acid, and aloe vera. This face serum immensely hydrates internally, and externally and lends a youthful glass-like glow.
Our Hero Ingredients:
Vitamin C:
Boosts collagen production.

Smoothens wrinkles & fine lines. 

Reduces dark spots and brightens the skin.
Aloe Vera:
Controls hyperpigmentation.

Hydrates and evens the skin tone. 

Reduces acne and lightens skin blemishes.
Hyaluronic Acid:
Fights against the signs of ageing as it retains skin elasticity.

Promotes healthier and more supple skin.

Moisturizes the skin deeply and gives a glass-like texture to the skin.
2. Skivia 24K Pure Gold Facial Oil Serum with Saffron & Goat Milk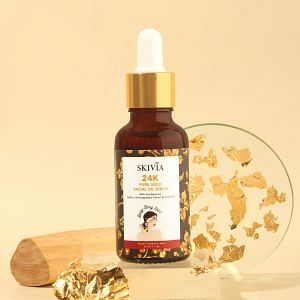 A healthy-looking, dewy complexion is key for glass skin, so hydrating your skin is a must. This best glass skin face serum is highly enriched with pure 24K gold, saffron, sandalwood, ashwagandha extract and goat milk that help to reduce signs of ageing and lighten skin pigmentation. You can achieve luminous glass-like skin only when you use serums. For centuries, we have been using saffron to improve skin colour and texture. This hero ingredient improves skin's health, and complexion and gives you beautiful clear skin. The combination of all ingredients gives a perfect texture to your skin and there's no doubt about that.
Our Hero Ingredients:
24K Pure Gold:
It penetrates deeply into the skin providing radiance and increased elasticity.

Improves complexion and lightens dark spots.

Stimulates the skin cells.
Sandalwood:
Controls oil secretion.

Reduces blemishes, pigmentation, tanning and dullness.

Reduces signs of ageing such as fine lines, dry skin, and wrinkles
Saffron:
Has anti-ageing properties that make skin look healthy and radiant.

Reduces hyperpigmentation

Inhibit melanin production in the skin.
Ashwagandha Extract:
Clears clogged pores

Even out skin tone.

Improves hyaluronan, elastin, and collagen production.
Goat Milk:
Helps in shedding dead skin cells.

Improves skin complexion.

Maintains PH level of the skin.
3. Skivia Glass Skin Face Serum with Pure Silver & Vanilla Planifolia
A healthy and balanced lifestyle and a dedicated skincare routine are needed to achieve a glass look. Serums are key to achieving this amazing glistening glass skin. This face serum for glass skin is highly enriched with pure silver, watermelon, orange peel oil, vanilla planifolia, limonene, and castor oil. These ingredients help to illuminate the face, giving you radiant skin with a dewy and glass-like finish.
Our Hero Ingredients:
Pure Silver:
Gives instant brightness and glow to the skin.

Heals skin wounds.

Treats acne and lightens acne scars.
Vanilla Planifolia:
Gives blemish-free and clear glass skin. 

Slow down signs of ageing like wrinkles, fine lines and age spots.

Helps to fight breakouts and reduce acne scars.
Limonene:
Improves skin complexion.

Reduces scars and marks.

Calms skin and reduces inflammation.
Watermelon:
Helps refresh the skin and controls oil production.

Improves collagen production.

Keeps your skin healthy and supple.
Castor Oil:
Prevents wrinkles, fine lines and age spots.

Reduces puffiness

Promotes skin health and gives a clear glass look.
Orange Peel Oil:
Reduces acne and kills acne-causing bacteria.

Restores your natural complexion.

Makes the skin healthy and glowing.
Lock Up the Goodness

Now that you have found a serum for glass skin of your choice, the next step is well a crucial one. Top it off with a light layer of moisturizer. This step will ensure the goodness of serums stay intact. Moisturizers also act as a barrier between serums and SPF. 
In addition to the skincare protocols, changing your lifestyle can also be beneficial. Get ample sleep, hydrate your body, avoid junk food & your skin will thank you. Rejuvenate your skin from the inside out and considering every factor contributes well, glass-like skin can be a permanent affair for you.
Voila! It must look like a hectic process but beauty is pain, right? Get acquainted with the process and you are one step closer to attaining a glass-like skin. Use these glass skin serums every day for glass-like skin and trust me you may feel the urge to skip makeup entirely. Now that you know what serums to use. You are now an expert on the glass skin trend. Try them out, feel the difference, and thank me later.